Happy day! I get to finally show y'all the final look of the low dresser I've been working on since last month!
I bought this piece as part of a bedroom set at an
estate auction
and the very next day I came down with a
bad case of the flu
. Since then I've worked on it in stages whenever I got a block of a few hours these last few weeks while I've been playing catch-up with life.
Here's a quick "before":
Painting phase: (
getchur paint on, getchur paint on, get your pa, get your paint on!
)
I used milk paint by General Finishes called
Coastal Blue
.
The color did cause me to pause though when I first opened the can. From what I'd seen of furniture makeovers online in Coastal Blue, I was expecting it to be an almost-black navy blue. However, it's not, and it's not a navy blue as my
MMS Artissimo Blue buffet
, but what I'd call a deep Royal Blue. Rather than being disappointed, I found it to be a pleasant surprise because the color is
gorgeous
!
I kept the original fixtures and
used gold Rub 'N Buff on them
, and lined the top drawers. This was also my first time using the
GF topcoat
. Even though
GF's videos for applying the topcoat
looked easy, I put off doing it a few extra days because I was afraid to try a new product I wasn't familiar with and inadvertently ruin my hard work (anyone else relate?).
Turns out it
is
ridiculously easy to apply and I love the finish it gives! (even better, it's something so mild that you can apply it indoors! Great for me right now because it's been in the blistering cold 20's Fahrenheit outdoors these last few weeks!)
Have you ever had a paint color surprise with a project? Was it good or bad?

See what I'm up to on Instagram!
---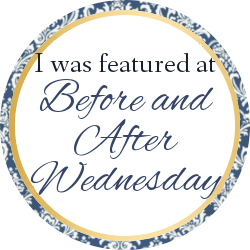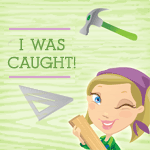 Shared On:
yourdesignsthistime
,
beforeandafterwednesday
,
dotelltuesday
,
fromdreamtoreality
,
totallyterrifictuesday
,
hitmewithyourbestshot
,
outsidethebox
,
creativityunleashed
,
missmustardseed
,
thepainteddrawer
,
mysalvagedtreasures
,
savvysouthernstyle
,
restylerelove
,
funkyjunkinteriors
,
myrepurposedlife
,
bestofthenest